Achieving Sustainability Goals
Many colleges and universities have begun to implement living laboratories on their campuses to help achieve sustainability goals. Living labs can help colleges test innovative solutions and make sustainability a part of the everyday fabric of the university. Different projects can address different aspects of sustainability, such as stormwater, energy, transportation, and so much more. Many schools' living laboratory programs are run through sustainability offices because of the deep connection between the two.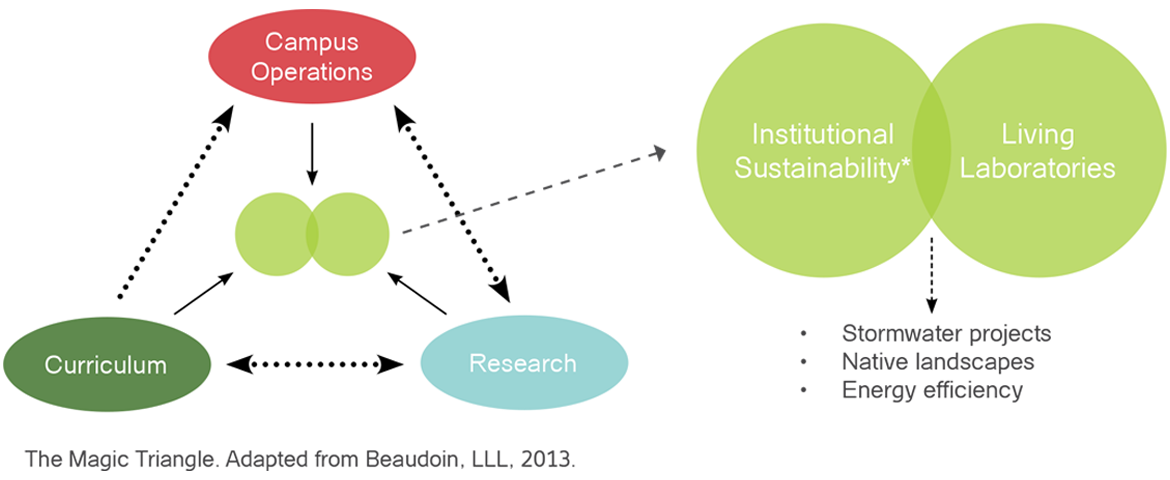 Sustainability, Rutgers, and Living Laboratories
The Sustainability Committee at Rutgers and Rutgers Facilities have made significant strides into improving the sustainability of campus. Efforts include decreasing the University's energy use, reducing waste from Dining Services, making more sustainable purchases, managing a university-wide recycling program, and maintaining an Office of Energy Conservation. Living laboratories offer opportunities to enhance and expand these efforts and involve students with sustainability research and projects.
On a larger scale, ecodistricts of sustainability, such as college campuses, can serve as gateways for making their surrounding communities and cities more sustainable (Beaudoin, Developing, 2013). In the case of Rutgers University, starting living labs on one campus to engage sustainability opens up pathways for similar efforts to be made on other campuses and continue into New Brunswick and Piscataway. While far in the future, such changes can enhance the surrounding communities and attract more people and funding to Rutgers and New Brunswick.
Sustainability & Rutgers Facilities
AASHE (Association for the Advancement of Sustainability in Higher Education)
ACUPCC (American College and University Presidents' Climate Commitment)
College Facilities As Living Laboratories for Sustainability (HuffPost article)