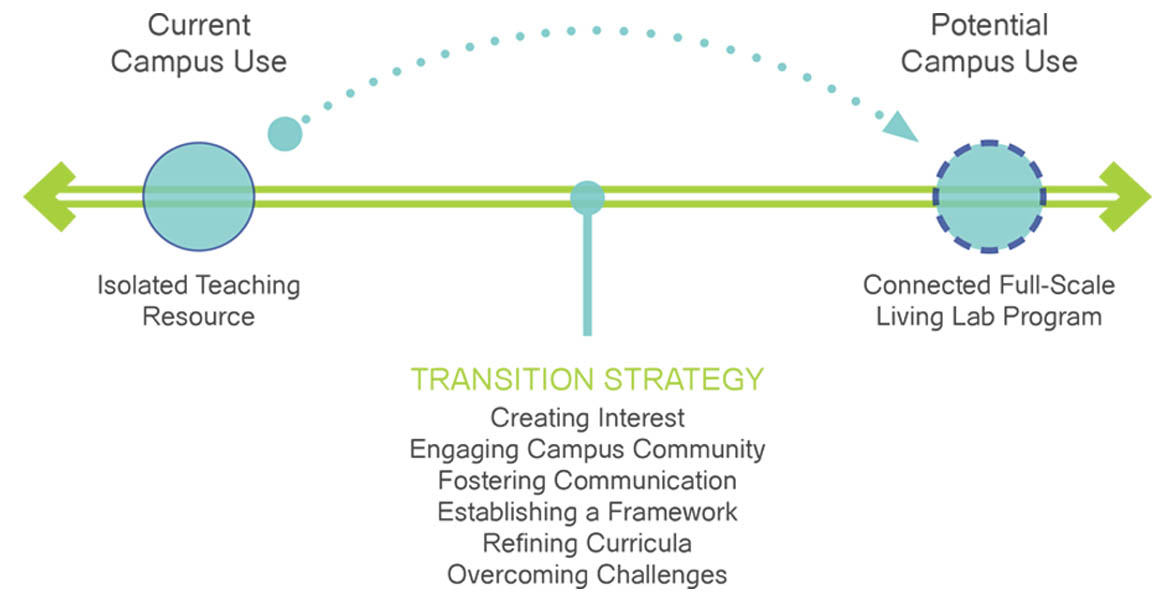 The Campus as a Living Lab
A significant step exists between using the campus as an isolated teaching resource and as a full-scale connected living laboratory. The majority of what currently exist at Rutgers as living laboratories are more on the teaching resource side of the living lab spectrum. However, there is the potential to enhance uses of existing living labs, utilize more spaces on campus, and create new opportunities to fully exercise the potential of the campus. Multiple challenges will need to be addressed in order to make this transition successful, but a framework for living laboratories and communication between the campus community can help overcome these hurdles.
Typologies
Potential living laboratories for Rutgers can be separated into two categories: enhancing existing living labs and creating new living labs. The creation of new living laboratories can be further subdivided based on the scale and effort of building the living lab, resulting in three typologies:
Enhancing Existing

This typology contains all improvements to existing living laboratories. Enhancing existing living labs can help gain initial traction and support for the creation of new living labs on campus.

Simple Interventions

This typology concerns the creation of new smaller scale living labs on campus. They are less costly and require less time to be established. As such, they are easier to implement. This typology can start changing the conversation of how people see campus to open up avenues to larger interventions.

Grand Gestures

This typology includes large scale and long-term living laboratories. They are more intensive, more costly, and more risky, making them more difficult to implement, especially early on in transforming the campus into a fully-connected living lab. Because they are so intensive, they will be most successful once a living lab program is supported.
Living Lab Sizes
Living laboratory sites can vary in size, from a garden on campus to a building to the campus-wide landscape. Generally speaking, living labs come in two size categories:
Nodes

A node is a single spot, area, or stop. They are of a smaller size and may be used by only a few classes. They are more likely to be Simple Interventions. An example is behind Blake Hall.

Hotspots

A hotspot is a main area that can be used by many classes where many objectives intersect and overlap. As hotspots will involve many players, they are more likely to be Grand Gestures. An example is Passion Puddle.

Some living laboratories may also make use of the entire campus. These utilize the entire campus as a resource instead of a single location. Examples are plant identification and sampling throughout campus.